My title is sung to a common christmas tune. (sleigh bells ring...).
Here's a report on what I'm up to in "my time away"...
Class 1, almost done:
I have one day left of the multicultural education class I am taking and then on Thursday the final. Despite the challenge of being away from home I have really enjoyed this class. The class started with alot, no underemphasized... ALOT! of reading to help us understand historical issues of various problems in society that need to be recognized and hopefully someday "fixed". I presented a unit today that contained culture identification and acceptance lessons. It ended with a foods unit (yeah, I know... hard to imagine this for me right) studying common foods in various parts of the world. I never realized how many people in the US believe they do not have a culture... we have had a historical past that has attempted cultural genocide.
Class 2: I have been in Interior Design 129 (via the web) at University of Colorado for the past three weeks. I am in week 4 and just finished a neat concept design assignment in which I had to draw "word" pictures and represent mood/feeling with colors. We have covered more technical stuff than fun stuff so far, but I am looking forward to completing it and plan to use my bedroom as final project design (and then really do it in January). I have four more weeks of this class.
Class 3: June 1, I officially started another class via the web offered through ISU. This one is called Apparrel Assembly Processes. As a future FCS teacher I guess the state requires that I know how to sew. I really don't know how to otherwise. As of right now I am waiting to receive the package that the teacher of this class is sending out, a DVD and patterns. I am borrowing my mom's sewing machine for this class. This class goes throughout all of June and July... 8 weeks I think.
I'll have two more classes come July - August for a grand total of 15 credit hours throughout the summer.
Top three things I love to do when my nose isn't in classwork (besides telling the kids to do their laundry and other household chores)...
#1) Swim with the family in the pool.
#2) Enjoy the kids making music.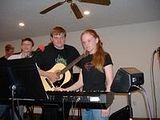 #3) Tend to my herb box or garden (cauliflower, lettuce, brussel sprouts, and broccoli here)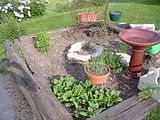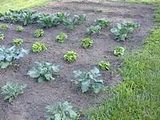 I'll be shopping Thursday on my way home and will share with you all the great things I found at the store today in Ames for a "late" MwM!

BAKEHOUSE HAPPENINGS:
DH just called and said that I have two orders to fill of "ugly muffs" ( like a mini essene bread) and a batch of muesli dry mix on Monday next week. Last week I had my sister bake 75 pounds of soynut flax granola for a customer order. I stopped at the coffeehouse where my granola products sell and sales are going well. I need to have my sis bake up a batch of cinnamon raisin granola and banana nut... the shelf stock is low. That is good news. I stopped by the market that I usually sell at and visited with other vendors and former market customers who said that they wish me well in my educational pursuit and sure wish I'd teach my sis how to make bread... I will be offering breads by order at the coffee house on a one time a week delivery starting next week. I do allergy free bakings by order also, so I have some customers who are eagerly looking forward to me being "back in business" Monday.
Ok! Breaks over, back to the books for me.