Yeah! I can get into blogger again. Kai, I'm sorry to hear about your site.... so much work gone. :-(
Redeeming from Busyness:
I have to redeem my "busy-ness" from the last post. Looking at it all together, it looks like alot. The 15 credit hours is spread over the summer, I am not in more than two classes at one time ever. Taking on baking for orders one day a week for customers takes 5 hours max - I have a commercial oven and I pay my sister makes granola for me and she often delivers to the coffee house for me also. (Pix: A basket of granola going to coffee house to sell.)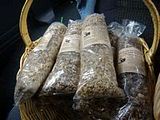 Also, I have a supportive DH who really took over things for me this past four weeks... I had been taking on line classes so that I can do them on my time, this is the only one I had to go away for. Also, right now is summer and my kids are considerably independent aroud the home (with some guidance). At home my kithen, family room, and dining room table are all in an open area. So when they are watching TV I'm ususally on the computor doing schoolwork or if I'm in the kitchen we are still together and sociable, but DH does say that I have two speeds: Fast and really fast. And with the sleep, I have had to make a few short nights but not to often . . . family
FORBIDS
me to do that anymore.
When I started taking classes we were all in 100% agreement that it would truly be a team effort if I was to accomplish this goal and then we keep a note of the benefits of the outcome. One of which is my kids both want to attend college and momma needs to bring in some extra financial $$ to help them achieve that. The Bakehouse is wonderful, but $100 a day as a sub teacher in addition to a few homeschool family visits will sure help accomplish that besides the Bakehouse is more of a passion than it is a profession in pay, cool thing is I get paid for something I love. DH and I love the farmers market and the veggie garden is a family project (DS often mows with a riding mower).
Also, my family consists of DH & two teens (come August, age 15 and 18)... I do 80% of household cooking, kids do dishes and trash, we all do our own laundry, I tell kids to clean up bedroom once a week and they do. I have pretty good kids.... I really do. Sometimes I look at them and think to myself, "How is it that you are turning out so well considering all the mistakes I've made along the way?". All in all, my the secret is the bible verse that we based our first homeschool year on.
Matthew 6:33 But seek ye first the kingdon of God and all these things shall be added unto to you. This has been a priority my personal goal and I realized seeking isn't hard. Honestly, I feel added to.... not busy.
Confession:
Schoolwork secret, I learn the best place to slack. Last semester I had two finals and a 1 1/2 hour video response to do on the same day. The video response was worth 5 points. I did review it (okay, fast forward mode) and made 5 very simple short comments one of which was, "Children are cute." Well the prof e'd me and said that she felt I didn't make a good effort in the review and didn't give me the points. I did that in order to give the two finals the time they needed. I got a B in the class and an A in the other two. DH gave me a hard time (via phone) last night about making sure I didn't attempt a "children are cute" kind of response for the final I have to take in about four hours.
STAY TUNED!
Okay, next post is Midweek Munchies. I'm so excited about some of the things I have to share. I have to wait until I get home to take pictures though!