Here's a little variety on oatmeal. My daughter can't stand oatmeal cooked mushy, but she'll eat it baked into bars, granola, or cookies. This recipe is my own, of which I have many many flavor variations. This flavor happens to be the one I made today.
Speaking of my daughter.... check out her new blog (now linked on my sidebar).
Big Carob Breakfast Cookies
with Carob Chips
- but you can use a good cocoa powder and vegan chocolate chips if you like
Recipe makes 14 (about 1/3 cup scoopfuls)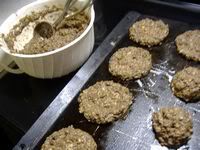 Combine the wet ingredients in a med mixing bowl:
**2/3 cup okara (from one batch of soymilk)
1 1/2 tsp stevia
2 1/4 C water
1/4 flax meal
Combine the dry separately:
3 cups rolled oats
1/4 C carob powder
2/3 C whole wheat flour (or barley if you like)
1/4 t sea salt
1 tsp each baking soda and powder
1/4 C carob chips
Add dry to wet and mix well. Drop by big 1/3 cupfuls onto a lighly oiled baking sheet. Makes 14. Bake in a preheated oven at 350 degrees for 15 minutes. Remove and cool on a wire rack. Refrigerate or freeze what you cannot eat within a day. I love to grab one from the freezer and stick in the toaster oven. I also like to make a spread of cranberry with a vegan creamy spread(like cream cheese) to top... yummy!
These freeze well and I advise make plenty... they are to easy to grab for a fast grab breakfast or even to tuck into a lunchbox.
Breakfast Cookie Variations:
Chai with vegan white chocolate
Almond Apricot
Apple with cinnamon chips (with apple sauce instead of carob)
Lemon with Pistachios
Pumpkin and pumpkin seeds (pumpkin mush instead of okara)
Maple Nut (english walnut or pecan)
**NOTE: You can use a little leftover tofu (blended smooth) for the okara or even well mashed leftover cooked legumes, white beans would work well. Make sure the beans are unflavored unless you want a weird variation of carob chip and chili flavored brakfast cookies... a bit to unique for my pallet pleasure.
I made two batches (12 cups worth) of soymilk today and used the okara from both batches in the breakfast cookies ... just make sure the wet ingredients equal to about 3 cups. You can vary the flours (carob, buckwheat, sorghum, spelt, etc), in the maple nut I used buckwheat flour in place of the carob powder, plus 1 tsp maple favoring and 1/3 cup chopped english walnuts. I have made these big cakey cookies many times in the past several years and it is a fun change of pace.