This is my wonderful DH. He cooked himself breakfast and decided to use a peice of the onion naan bread from theindian store. He called me down from upstairs to make sure I took a picture of it for my food blog. Here he is... the proud cook with his naan, peaches and soy yogurt topped with bakehouse granola, omelet and juice (Good Job Honey!).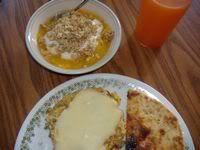 After doing a search on the word biophilia for a class I am taking I discovered -philia means a combination of the terms "friendship, fondness," from Gk. philia "affection," from philos "loving" (from
http://www.etymonline.com/index.php?term=-philia
). I like this word and for my own personal self identification purposes have decided that I have food-o-philia or maybe a food-o-philiac. When the people that I live with explain to others how I food"blog" and that they won't find the latest "velveeta, burger, and salsa" crockpot dish in my recipe box, they can now happily explain that I have been infected with this wonderful condition.... a friendship, a fondness, and affection towards food. In turn this also means that I do not like blood shed, merciless care given to animals raised soley for the purpose of being pumped full of antibiotocs and growth hormones, and in turn I have a friendship, a fondness, and an affection towards my body in choosing the diet that I have chosen. However I have this same kind of friendship with fellow humans and can accept those who do not or can not embrace this food-o-philism which is a part of me.
Yes, my new word is sentimental and the meaning of the original meaning somewhat stretched. Any other self proclaimed food-o-philiacs out there?
Okay beyond making up new words I have been making up a thing or two in the kitchen this past weekend. You'll have to bear with me I think I might be a bit unsocialized as I prepare for a final test and present an entire unit using multicultural education methods this week, so I am looking for ways to entertain myself.
MY KITCHEN MAKINGS...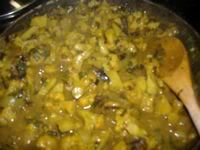 I call this dish "wanna be Indian food". It began when I opened up a package of ready to eat Alu Mattar that I bought at the neat little Indian Food Store I found last week. The food was packaged in a thick plastic/tin combination type bag, I just had to open the bag and dump the mix into a bowl and microwave to heat. When I opened it it was covered with orange oil, I poured off about a Tbsp of it. The side of the box said 1/3 C = 1 serving, so the whole package had 3 servings therefore 1 Cup of goodie for about $1.75 . I looked at the ingredients and discovered this orange stuff was probably common (non organic) vegetable oil and the the majority of the calories in this food was fat. There were very few peas and potatoes in an oily gravy (the gravy had a nice color though). Although I was a bit freaked out by all the oil I tasted it and the curry flavorings weren't bad, but I couldn't eat it just to eat it. SO.... I went to my creative drawing board instead. After rummaging through my cold storages, I found that I had chopped onion, mushrooms, spinach, and califlour. I started stir frying all this in a pan and when I was satisfied I added soymilk (for a gravy) and seasonings... alot of mild curry and turneric, a little cardamom and cumin, some of that black salt I got at the indian store, a pinch or two of dried cilantros. I kept adding a little more of this seasoning or that as I went along and kept tasting it. I then added a little cornstarch to water and mixed it in to make the now colored soymilk into gravy... it worked and the dish wasn't to bad. I ate it with a slice of garlic sourdough bread (okay I should have used the naan bread if I truly wanted it to be an indian dish).
I have also made falafels for the first time. I strived for low-fat and they turned out a bit dry, but I will be making these again for sure and posting a recipe once I get it right. I baked these in the oven.
And one last note on my food-o-phlia entry, I took a picking of marjoram and dill. They are hanging in my kitchen drying and when they are complete I will crumble them up and put them with my spices.
.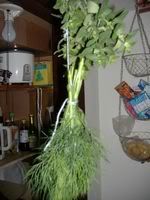 The weather here is wonderful! Have a great day!!