Earlier this week I made a B**fy seitan roast that uses tofu, Bryanna truly is the queen of sietan roasts. As usual, it turned out wonderful. I took a portion of it with me for eating while I was away from home. Tonight I will be making Au Jus sandwiches using my seitan roast (DH favorite!) and have a spinach salad, fresh picked from my garden on the side. This picture consists of a stir fry in which I combined onions, red and yellow peppers, greens (chopped), with sietan and served it over rice.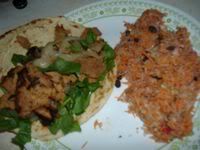 Here's a picture of my

veg gyro
(seitan, grilled onion, chopped garden spinach, and some greek hummous on an onion flavored naan that I bought from Nameste foods). I also discovered Nameste means = > I salute the light in you. The picture here doesn't make my veg gyro look as good as it tasted. I grilled the onion and seitan in the george grill. The salad is a dilled english breakfast radish and carrot salad, it isn't glamorous nor gourmet, but I was able to use up the bunches of radish that I picked last weekend.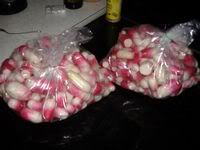 english breakfast radish (mild)
Pictured is a variation of seitan roast from Bryanna. Link to
Vegan Feast Archives
(scroll down for seitan turkey and then lower for seitan au jus). I think she might be in process of another cookbook because she recently taught a seitan making workshop at a fancy veg chef conference, so I won't give out newsletter recipes ... however the link above is to the FREE Vegan Feast Archives. My family enjoys roasts that includes tofu in the wet blended ingredients because the tofu gives the "meet" an incredible texture, the roast pictured does not contain tofu. I like them either way!. Sometimes I freeze portions of either roasts so I can grab some when desired. They freeze well, just thaw or refrigerate until thawed and eat. I have packed seitan in the cooler for family trips and cold "meet" sandwiches many times. Every thanksgiving and christmas I have made great fancy "b**f wellingtons" and roulades "stuffing rolled sietan roasts". It has been wonderful. I have followed Bryanna's cooking and cookbooks for the past seven years.
The Many Faces of Seitan ...
I pronounce this Sie-ton, but I have been informed that it is actually pronouced say-tan... I like my pronunciation better, maybe because it's not so devilish.
Here is an opened face seitan sandwich. I broiled shredded homemade vegan gruyere cheese on it and had a layer of my favorite homemade mustard on the bread. I love the way Bryanna's gruyere cheese recipe shreds from the frozen state. This little bit of cheese is leftover from when I made the
mushroom polenta casserole
. I served this with a green salad fruit salad.
It is also nice to have a roast in the frig to chop up for salads or to make a fast sandwich wrap, but also just for grabbing a bit of protein from the frig when I want.
The picture to the left is made using a whole grain wrap baked a little crispy and until the insides were nice and hot.
I have cooked great roasts in a clay cooker, but also find them quick and easy to throw in a slow cooker and let it go on high. I like them either way. The clay cooker method is a bit more time consuming. The last variation pictured here is seitan mushroom gravy over a quartered baked potato with a side dish of muskmelon.
NOTE: I do make my sietan roasts using a bread machine or electric dough mixer. I like the texture better with the long knead and rest method... the roasts actually turn out "stringy". Roasts without tofu tend to be a bit chewier, ie "rubbery" my family says, compared to the wonderful textured roast with firm tofu added.
I strongly recommend giving one of Bryanna Clark Grogan's roasts a try, she has many many many variations and often comes out with some new flavor/ serving variation in each newsletter. I am in agreement when I see others calling her the QUEEN OF SEITAN.