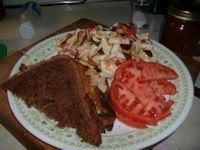 Today's
Recipe Additions : Spelt Pumpernickel Bread in the Bread Machine
Fat free Russian Dressing and Caraway fruited salad dressing

Today I am out shopping with a gal that just moved to my town a few months ago. She wants to know good places to shop, so I am going to show her my weekly haunts. We'll start with a traditional Amish store where I get all my grains, dried fruits, and nuts. Next stop is a Chinese store where English is not well spoken and the sales ads have only native language. I have been split about lunch... my dilemna is between Panera Bread, Pita Pit, and a mongolian grill buffet. She seems like more the buffet type and it will probably be friendly to her high protein diet... yeah, I frown on that too, but she is fun to converse with.
What am I eating today? I have been digging through my cookbooks looking for inspiration...sushi rolls, hmmmm.... I have never made these before yet have all the equipment to do it. Since noticing them on the fatfree vegan kitchen blog I think I can do it! I will not have the prep time today though. So instead, I lean towards German cuisine to use up the last of my corned seitan roast on Rueben's: rye bread, sauerkraut, my trial of homemade fat free Russian dressing, and a suisse-style cheese from Bryanna's Almost No Fat Cookbook. I will serve this with a caraway apple/pear slaw salad on the side (Dressing recipe link above).
AFTER THOUGHTS:
I did enjoy this meal, for a change of pace.... but no part of it is something that I would add to my list of favorites, except the pumpernickel rye (spelt) bread that I made. I am posting a picture of it used for my reuben sandwich and will place the bread machine recipe for my unique loaf at the top of this post. I will be making this lovely very dark brown bread more in the future! The dressings... The russian dressing turned out acceptably well, I've never tried this kind of dressing before ... ever (more due to the fact I love balsamic vinegar dressings) and the slaw definitely needs time to sit and marinate in the dressing to pick up the flavor better. Once it marinates it is good.