Blogger won't let me post a picture right now, so I'll make today's entry brief while I bring my photo's in the more time consuming way.
YESTERDAY'S NAME THAT FOOD WINNER IS...
LESLIE at EAT PEACE PLEASE
posted her guesses within minutes of my post. She guessed all but one, but later came back with a page number for the #3 mystery: P 96 Molasses Baked Beans.
KAJI'S

MOM
was the first to guess #3 as molasses baked beans.
Thanks to others who participated:
Veronica at
Primary Consumer
Johanna 3
in
Puerto
Rico
Cherie at
Utopian Kitchen
(non beta, but post as anonymous)
KITTEN UPDATE: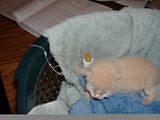 Another shout out to my new blog to receive an interesting view of the foster kittens and other abandoned cats I have staying with me. The cream puff is still alive, still bottle fed, and seems to be the "runt" of the bunch. I think cream puff is a she . . . not positive because they are so little. She is also non competitive and still won't compete for food, but she does take the bottle. The other three are doing fine.
FELINE PAL FAMILY
CRAFT:
Matthew will be home this afternoon and we will be starting on his renaissance
faire
costume.
LUNCHBOX: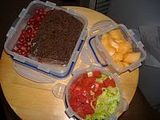 Melissa took a carob bread machine sandwich (
recipe from Weenie at Live It Up Vegan
) with almond butter and bananas on it, salad with tomatoes, candied peanuts, and
cantaloupe
pieces
.
Have a great weekend all. I'll be away crafting. Maybe I'll have a picture of Matt's costume when I come back. Please know non beta blogs if you do not accept anonymous posts I cannot post, but I am still reading.