FOSTER MEOWMIE:
You read that right, foster mom to a cat with 5 kittens that are less than one week old. I am a hopeless. My mom scolded me when I was young for bringing home every furry four legged thing that would come when I said, "Here, little one". Dave has reminded me that we cannot , no CAN NOT adopt every stray four legged animal that presents itself on our front porch and no we cannot put food there claiming that I don't know why it hangs around. :(
I'm not, I didn't, I'm innocent and I plea the fifth! It's all my neighbor's fault. She brought her troubled self to my back door and knocked yesterday. I should have known she was trouble, after all my Bible tells me somewhere that "Though shalt not answer the door when those pesky neighbors of yours come knocking"... okay maybe I paraphrased that some (read: I made it up). She said, "I need your help." I should have slammed the door in her face immediately, but no - I take the bait and say, "What's up." Long story short, a couple moved out of her rental house and left several cats. One of which had kittens less than a week old SOMEWHERE in the basement. She's allergic to cats and has a baby to take care of. Well, I did what every other sensitive animal caring person would do and found the kittens, mother cat, a pure white older cat, along with it's pal a yellow striped one. When I finished and had them all snug in the back of my 4x4 raider, I claimed defeat and told her that my husband was going to send her hate mail. She happily agreed to accept it and said, "Thank you."
When Dave got home I had to fess up. It was kind of hard to keep it hidden when I had a sign on the bathroom door boldly proclaiming OCCUPIED, USE OTHER BATHROOM ... I stood hopelessly guilty and was caught cat handed. My sis has the other two older cats and I have a momma cat and five less than a week old baby kittens.

I never told you all this but the last kitten we had (the no named one), ended up becoming the kitten of another person who was looking for a good house cat. No name was good for that, so we let him go.
Now I have six animal friends in my bathroom with no name. Since I knew we could not keep them, I called a local stray animal organization (PALS) and let them know of the situation. Our county does not have a shelter so they recruit volunteers. I agreed to FOSTER the cats and they agreed to do whatever they could to find adoptive homes. Yeah! Melissa is happily accepting the assignment. Dave is agreeable and PALS are my pals, such a redeeming organization... now, cleansed from my wrong doing I can happily go about fostering these babies too.
Send good vibes this way that momma cat will feel comfortable and take care of the babies since we had to pull them out of her nest. I have been trying to keep the bathroom environment quiet so she will feel comfortable in these new surroundings. Today she seems very friendly but I could tell yesterday that she was a bit freaked out, more interested in eating and wanted to be left alone more than anything else. The vet said call for food supplement if I hear the babies crying non stop, if they do that it means that momma is not adjusting well and not caring for them.

UPDATE: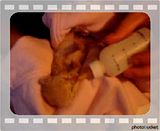 Dave took this video last night. This little one was cold to the touch and very lethargic for the last six hours, but yet alive. We drove 10 miles to the vet clinic office (after hours emergency service) to get special kitty formula to try to make this one eat. It wouldn't respond to it's mama's licking when we left and it wouldn't compete for food. This video clip was taken when we returned home.

Dave managed to get a whole 1 Tbsp down it, but it wouldn't suck. We then took it back to it's mom and discovered a little yellow tiger stripe one had suffocated by the mama lying on it. Dave was heartbroken and held it for more than 15 minutes trying to get it to "wake up". We were both shocked that the one we were sure was going to die was still alive and one that was lively and active died.