This is my version of a "hungry planet" personalized picture. I took a picture of my Thursday buying club and shopping trip. This week I will not be purchasing much after spending around $275 on food related shopping last Thursday. Cooking and methods of preservation: 2 Refrigerators, electric stovetop convection oven, 3 freezers, toaster oven, crock pot, rice cooker,
soymilk maker
, gas BBQ grill, automatic bread machine, home cannning equipment and jars, etc....
Here you see:
1 bag * millet puffs cereal
1 lb * lima beans
2 lb * pinto beans
5 lb each *red split lentils, white quinoa, and currants
12 bags * guiltless gourmet corn chips
2 loaves sliced * whole grain wheat bread
5* locally grown sweet potatoes
5 * russet baking potatoes
10 quarts Wildwood plain soy yogurt
6 # White Wave r/f firm tofu
1 pkg smart life veggie dogs
3 large leeks
3 lb * sweet onions
8 lb * strawberries
6 heads * romaine lettuce
3 lb * baby carrots
fresh * Locally grown sage (mariposa farms)
12 rolls enviro friendly toilet paper and a 48 oz mouthwash
6 boxes brown muffin papers
96 oz box ECOVER environment friendly laundry detergent (37 loads)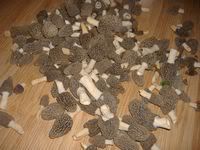 BRAGGINGS!! DH went mushroom hunting Tuesday (left work a bit early) and brought us home a bounty-close to 10 lb's of morrell.
MEAL PLANS:
Still working on this.... it will include something with morrell mushrooms and strawberries for sure though. Things I have seen on other blogs and been "hankering" include: spicy split red lentil soup (for strength), curried red lentils with cauliflower, falafels, and still looking for something that inspires me to use up some adzuki beans.
* I'll be cleaning and opening up the Bakehouse this coming week because I have my first spring time order of the year to deliver on May 11th for 12 dozen Raw Bars, 12 dozen vegan whole grain organic muffins, and 36 dozen vegan whole grain organic comfort cookies. This order is a part of a finals week "survival pack" for college students.
Want to know more about
Midweek Munchies
, check out
Harmonia's Hut
.
NET BROADCAST:
A Vegan Feaster, Linda, on Bryanna's private talk board for newsletter subscribers (shhhh... the private talk board is a bonus of subscribing, but she can't advertise it) posted a link to a net radio show about vegan nutrition. I had to download this in MP3 format and listen with my real one player... I couldn't open it any other way.
I learned alot from this after listening twice and taking notes the second time.